One of the banes of modern shopping existence is the difficulty of the hunt.   The standard mall stores are progressively less imaginative and less stylish, with progressively lower quality garments.   Online retailers are everywhere – but what's a girl to do if she's not a standard size?  Sending piles of clothing back is just a pain in the behind.
Enter Eshakti.  They  offer custom-fit clothing with a wide variety of options.  You start with one of their pre-designed dresses and then for a $10 fee, you can change the hemline, neckline, and sleeve.   Included in that $10 fee is custom fitting – so you can have your dress made to measure.
I am very hard to fit, and I'm not the only one out there with Fit Issues.   So the idea of having someone not-me make a dress for me was very tempting!   But I don't trust easily, so I kept my bets minimal.  I knew if this dress wasn't quite right I could repurpose it.
Here's the dress as it appears on the Eshakti site: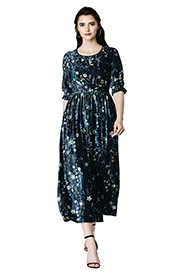 I opted for the just-above-knee length, and a keyhole neckline.  I submitted my detailed measurements, and this is what I got:
It is surprisingly difficult to take a picture of a navy dress indoors… but suffice to say that my 5'2″ self has a dress that fits nicely through the bust, the waist, with a perfect armlength and hem.  I knew going in that the fabric was poly/spandex, which is possibly my least favorite fabric.  But I wanted velvet for my husband.   It's a nice weight – I will be quite warm in this dress, it's definitely *winter only*.  (I live in SoCal, you could wear this in Spring/Fall elsewhere).
The only odd thing is what I noticed when I checked other gal's reviews of Eshakti – the waist is high, even though I submitted a shoulder-to-waist measurement.  No worries – the back waist is also elasticated, and there's not a ton of difference in my waist and lower-rib measurements.   Next time I order, I'll add a couple of inches to that measurement.
I also decided to purchase a blouse from their "ready made" section.  Although I generally buy a size 14, the measurements put me in a size 16.   I was surprised to pull this blouse on and find that it fits beautifully.   Dark navy is a bit dark on me, but I'll get plenty of wear out of this – eyelet cotton blouses are a basic in my wardrobe.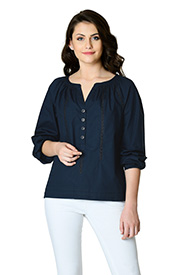 Fabric here is a nice cotton, good weight – and it unexpectedly came with a woven cotton tanktop in a lighter navy which also fit perfectly.   I'm sure it's going to get worn under other garments!
My only beef was the amount of time this took – which is a silly first world complaint.  This is made in India, and I got in in a couple of weeks.  Custom clothing.  I should complain?  Well.  So you know – you're not getting this overnight.
In sum:   Worth the money, especially as I had an introductory sales price.  (I hear that they often offer sales).   Add shoulder-to-waist length for custom made articles.   Be mindful of what you're getting and know your proportions, and this is a good place to get some interesting clothing.
This post is in no way sponsored by Eshakti – it's sponsored by my belief that we need more sensible shopping options!